Kodak SP360 Action Camera
Pros
- Extremely small (50 x 43 x 56mm) and lightweight (103g)
- Rugged and durable (2m shockproof, -10 degree freeze proof and splash resistant
- 360 degree video recording in a variety of different viewing modes
- Can capture 10MP images
Cons
- It's not 360 in both horizontal and vertical!
- Video quality isn't great due to the 1080p HD recording being stretched 360.
- It's just not a spherical picture and for us, that's a problem
Price: RRP $279.99 Available here UK
Release date: November 7th 2014
---
Background
About six years ago the market was flooded with HD pocket camcorders such as the Flip, the Kodak Playsport, and numerous other devices by Sony and JVC, to name a few. However, a few years later after the dust had settled the only contender left standing was the mighty GoPro – and they've continued to dominate the action-cam market ever since. While I'm sure their clever (and somewhat aggressive) marketing played a key role in this, the fact their devices were truly rugged, recorded high quality video footage, and the fact they sold attachments to mount their devices onto virtually anything for virtually any activity, made the GoPro the cam of choice for adrenaline junkies as well as more serene activities.
Enter the Kodak SP360 Action Cam. It's fractionally smaller than the GoPro, claims to be shockproof to 2m, splash-proof, comes with a medley of various mounting attachments, and its biggest selling point is a 360 spherical lens. 
---
Unboxing
We normally include a brief list of what you get when you buy a product, but Kodak have several options here. You can buy the unit on its own, go for the 'Explorer' pack that includes a range of mounts and fittings that include a protective case; or the 'Extreme' pack which includes more mounts and fittings than I've ever seen; and finally the 'Aqua Sports' pack which as the name suggests, includes waterproof housing for camera.
---
What's it like to use?
---
Build quality & ergonomics:
Being extremely small (50 x 43 x 56mm) and lightweight (103g) the Kodak SP360 is a truly pocketable camera. And the controls are very straightforward to use as well. It only has three buttons and doesn't have a built-in preview screen, but then again, neither does the GoPro. The menus are simple and easy to navigate, and being able to use your smartphone as a viewfinder and control the device is a definite plus. You don't have to use the app of course, as you can just press the big red button to start and stop recordings.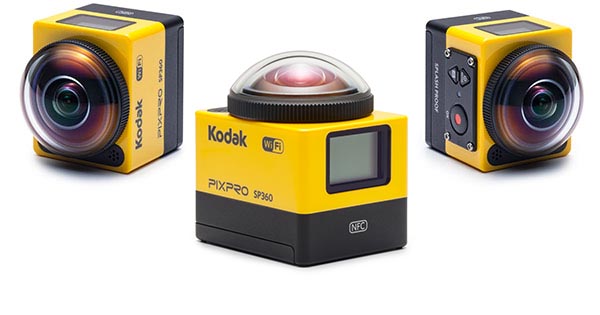 ---
Recording video:
There are several options on how to output the video footage, or "unwrap" it from distortion brought about by the spherical lens. There's a 16:9 fisheye display which requires the lens to be pointed straight ahead. There's also a 4:3 fisheye, a spherical mode, there's a split-screen mode that shows what's happening in front and behind you, and finally there's a 360° panorama mode. Oh, and there's also a "ring" and "dome" mode, but these seemed like more of a gimmick than any of the others. You can record video in any of those settings, or you can simply change the output to one of those viewing modes using Kodak's software. But bear in mind that the orientation of the cam will affect this. For example, in 16:9 fisheye mode the lens needs to be pointed straight ahead, so trying to change the output mode later on will not result in good footage. Also, in 16:9 mode video footage is recorded at 1080p HD (1920x1080p) but other modes (4:3) it's recorded at 1440x1440p HD.
---
Taking photos:
In 16:9 mode the images are only recorded at 5MP, but in other settings the images are saved at 10MP. This is rather odd, and annoying.
---
Software:
The Kodak software is free to download and use, and we found it extremely simple and effective. As already mentioned, you can adjust the mode after shooting the video, and it removes (or at least minimizes) geometric distortion in both videos and images you've taken.
However, while the Kodak SP360 has a number of impressive features, including size, weight, simplicity, using your smartphone as a viewfinder and remote control, as well as its main selling point – 360 video footage, it also suffers from a number of flaws.
---
Problems
---
Not really 360
Yes, it has a spherical lens that captures all the action 360 around you, but this is only on a single axis. So, using this cam essentially gives you three options for shooting: 1) you can either aim it at whatever you want and use it as an ultra-wide cam; 2) you can point it straight upwards to capture the sky and all around you, but have a big wide black hole on the lower part of the image; or 3) you can aim the cam directly downwards to capture everything whilst leaving a big black hole for the upper part of the video. The only way to resolve that is to buy two of these units and position them back-to-back. Kodak actually sell special housing to do this. And while it's still an awful lot cheaper and easier than buying and setting up an array of GoPro's together, it does rather defeat the purpose of buying a 360 cam only to find that strictly speaking it's not actually a true 360 cam.
---
Video & image quality:
What's also noticeable is the lack of quality in the video footage. The device shoots in the following formats:
1920×1080: 30fps;
1440×1440: 30fps;
1072×1072: 30fps ;
1280×960: 50fps/30fps;
1280×720: 60fps/30fps;
848×480: 60fps
848×480: 120fps
The high speed options are fun but too low quality to really do much with. And even at the highest resolution (1080p) it's disappointing: the focus on everything is soft and lacking in detail or clarity. We also found that the exposure dynamics weren't very impressive for either video or image, with highlights being blown out. We also noticed a slight but noticeable flickering when panning around 360 video footage. While this wasn't immensely distracting to some of our team, to me it was like a high-pitched noise – it doesn't bother you until you notice it – and once you do it's difficult to forget that it's there.
Also, if you're planning on uploading your 360 videos to share on youtube then bear in mind that the quality will be less good than you think for the simple reason that the 1080p resolution covers the entire 360 degree field of view. With normal video footage you're just looking at a single fixed area, but imagine that same resolution covering a full 360. Yes, that's right – it isn't great. In fact, even watching a video taken with one of these on a 5.7" smartphone we could see the lack of detail.
---
Summary
Pros:
Extremely small (50 x 43 x 56mm) and lightweight (103g)
Rugged and durable (2m shockproof, -10 degree freeze proof and splash resistant
Can control camera using the Kodak smartphone app (available for both iOS and Android)
Partial 360 degree video recording in a variety of different viewing modes
Can capture 10MP images
Lots of accessories for mounting and attaching the camera come included
Excellent value for money compared to the GoPro, especially given how many free accessories come with it for mounting
Cons:
It's not 360 in both horizontal and vertical (i.e. 360×360) so there's a very large black circle at the top or bottom of your video (depending on how the camera's positioned). You actually need two of these back-to-back to record true 360×360 video footage.
Video quality isn't great due to the 1080p HD recording being stretched 360.
Conclusion
Don't get me wrong. The Kodak SP360 has a lot to offer the average consumer. It's extremely small and lightweight, thus making it a genuinely pocketable camera. And the range of mounting attachments in the 'Explorer' pack is excellent. Furthermore, all those mountings would cost you an awful lot if you were getting them for a GoPro. So, in terms of value for money this is a no-brainer if you just want an action-cam. And of course the spherical lens gives videographers a whole host of new possibilities when shooting, including the ability to capture ultra-wide video footage (in 16:9 fisheye mode) or partial 360 videos (albeit with the top or bottom blacked out with a huge circle). In short, viewed simply as a quirky ultra-wide action-cam the Kodak SP360 is a great choice in terms of its features (including the smartphone app to control it and use as a viewfinder), size and design. However, when viewed exclusively as a 360 camera then it's somewhat lacking. The 360 video footage is too soft and lacks detail. And to achieve true 360 videos you need to invest in two of these (plus special housing), which somewhat defeats the purpose of getting one.
So, in summary: if you want an ultra-wide pocket cam you can control with your smartphone to take out with you to shoot some videos and have a lot of fun with then get this instead of a GoPro. It's a lot cheaper once you factor in the mounting attachments. However, if you're interested in a true 360 camera that shoots high quality video footage then you should pass on this and wait for Kodak to release a better version, preferably one that shoots in 4k.
Comments
comments