Estimated price: $499.99
Scheduled release date: October/November 2015 (Europe) and January 2016 (US)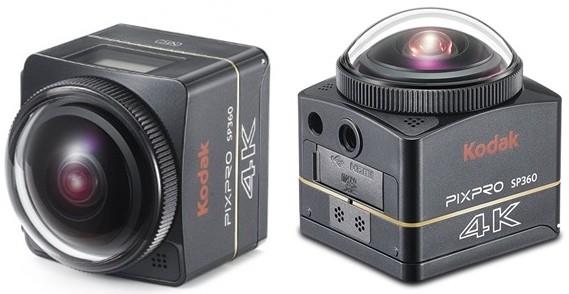 We've already reviewed Kodak's first attempt at a 360 action cam – the KodakSP360. While it was small, lightweight and had a number of good features that included being able to use your smartphone as a remote control for it as well as using it as a viewfinder, we also found it rather lacking in many key areas. For a start it was 360 horizontally but not vertically as well. This meant that when aimed directly at the sky (or directly downwards) a large black circle was visible either above or below in the resulting video. The only way to resolve that was to attach two of these cams back to back and then stitch the two video streams together. Another problem was image quality: it was soft focused and lacked detail. The final problem was the resolution. It was only 1080p and that was covered the entire 360 view, so it wasn't great.
However, it looks like Kodak have taken users' feedback on form and made an improved version – the Kodak SP360 4K. As the name suggests, this seems to be essentially the same as the original model except that it shoots in 4k UHD, which will be a significant improvement over their first version. Also, it's black instead of yellow.
That sounds great doesn't it? Well, it would be… if it were true. We checked out the specs online and while Kodak are marketing it as a 4k action cam, the max resolution is actually only 3840×2160 at 30fps. But that's for recording flat video footage in 16:9 format. For spherical footage that Kodak's software turns into 360 footage you need to use the 2880x2880p at 30fps. And that is not 4k footage.
Admittedly we're a bit disappointed about this. However, the cam can also record video at 120fps in 720p HD. Now this is interesting as it offers the possibility of creating some entertaining slowmo videos to capture high speed events.
Kodak will reportedly also be selling pairs of their new action cams along with a housing to hold them back-to-back. You'll then be able to use Kodak's free software to "unfold" and combine both video streams together to create true 360 videos. However, we've already looked at the Kodak software and at the time of writing this it suffers from one serious flaw: it only outputs 360 video at 1080p HD. Why is this a problem? Well, think about it: if you're combining two video streams that are 2880x2880p each, then surely the resulting 360 video should be 5,760×5,760p. However, it then gets compressed down to a third of that.
Hopefully Kodak will have resolved this and released new software to merge two video streams together to create higher quality 360 videos from their new action cams. We'll let you know as soon as we get our hands on a pair to review.
Comments
comments