Estimated price: TBD
Product website: http://www.nikonusa.com/en/nikon-products/action-cameras/index.page
Scheduled release date: Spring 2016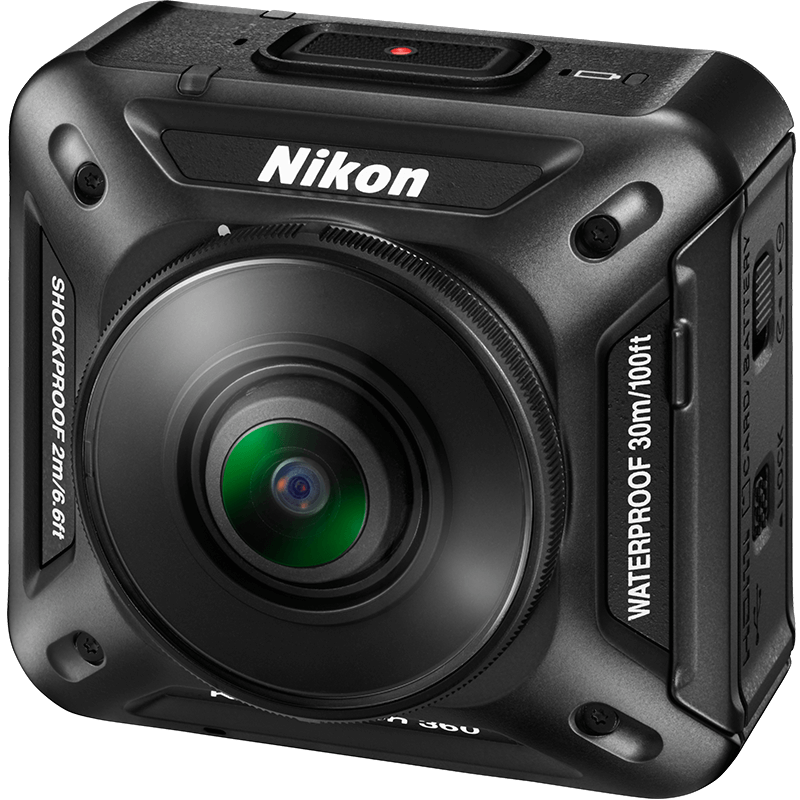 Nikon surprised the photo industry at yesterday's CES 2016 (Consumer Electronic Conference) by announcing that they've entered the 360 camera market with their 'Keymission' 360. This has got us excited for two reasons: it's their very first action-cam and it shoots 360 video in 4K UHD. At first glance it looks very much like Kodak's new 360 cam, SP360 4K, and it appears to have several of the same features. However, beyond the fact they're both black and shockproof to 2m the similarities end there. The Kodak SP360 4K is only splash-proof, while Nikon's Keymission360 is waterproof to 30m. But what's most interesting is the fact that while Kodak's SP360 4K only had a single spherical lens, Nikon's Keymission360 has two positioned back to back. If you read our review of Kodak's SP360 then you'd know that it didn't really shoot at full 360 in both the horizontal and vertical axes, so you needed to use two of them back to back and then merge the two separate video streams together using Kodak's software (or something better like Kolor's Autopano Video). However, by including two spherical lenses in a single device Nikon are offering a true 360 camera. What's not clear yet is whether their device records at 4K UHD for each of the two lenses, or (more likely) whether they're actually referring to the combined resolution that merges the video stream from both the front and back lens together. Nikon have already released three video clips on Youtube showing footage taken with the device that you can view here. As each clip is available at 4k (2160p) it would seem that the answer is  no – their boast of 4K 360 video refers to the combined resolution of both lenses. We're not disappointed about this of course, as it's still a mighty step up from the Ricoh Theta and the 1080p soft focus of the Kodak SP360 footage. However, looking at Nikon's sample videos it's still a bit soft and lacking detail, especially compared to the results achieved when using a rig of six GoPro's.
Nonetheless, the quality's certainly a step up from the other mainstream 360 cams we've reviewed thus far, and combining two spherical lenses into a single unit clearly gives it a significant advantage over both the Kodak SP360 and SP360 4K action cams, insofar as you only need to buy one of these and don't need an additional rig to house two of them, or fiddle around combining separate video streams. In which case, Nikon's Keymission360 will make life easier for those wishing to record high quality 360 video footage without forking out for six or more GoPros and and an accompanying rig, or two Kodak SP360s, and then fiddle at your computer merging the video streams.
In short, if the Nikon Keymission360 delivers on what it's promising (a 4k 360 action-cam) then it'll certainly shake things up. Currently the GoPro is the action-cam of choice among both adrenaline junkies as well as general consumers. But adding 360 video recording capabilities at 4K UHD along with WiFi and Bluetooth connectivity (both of which the Keymission360 has), as well as its shock-proof and waterproof design, and you'll have something that may well replace the GoPro as the action-cam of choice.
So are we excited? Yes we certainly are. And we can't wait to get our hands on one of these to review.
Comments
comments